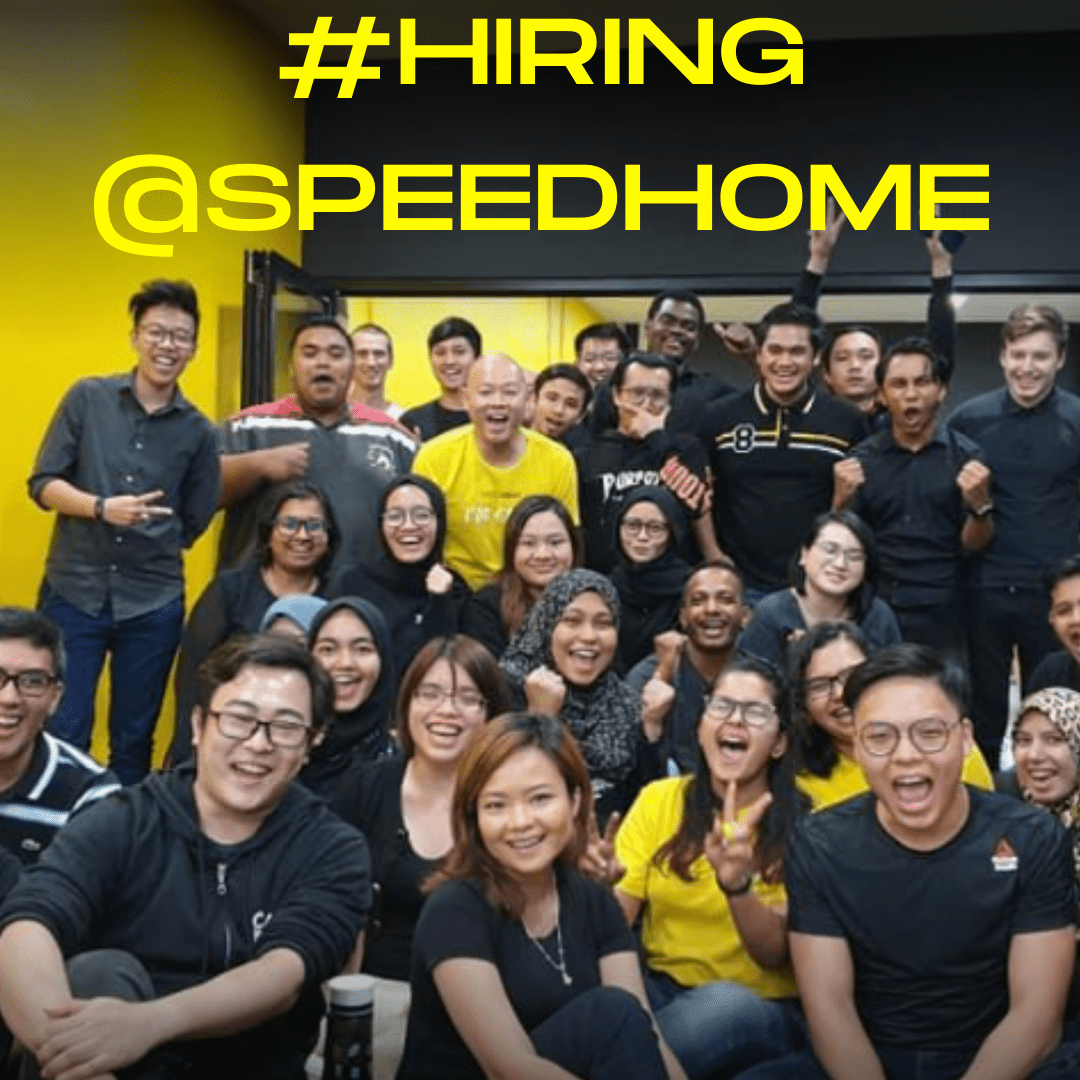 Our partner Speedhome, is #hiring! Many positions, more coming up. Software Engineers, Backend Developers, Sales, Video Editors. (Malaysians only)
>Senior Software Engineer (Java) RM8,000 to RM13,000
>Junior Software Engineer (Java) -RM3,500 to RM5,000
>Video Editor – RM2500 to RM2700
>Customer Experience (Sales) – basic salary RM2500-RM2700, allowances, KPI, and benefits can earn you up to RM5500!
>Backend Developer Intern – RM1000
>Test Engineer Intern (IT) – RM1000
>Teledebt Executive x1 (minimum SPM) – RM1800
>Office Runner (minimum SPM – RM2500 to RM3500
>Homerunner (minimum SPM) – RM1800 to RM3500
Do share with your friends that are looking for opportunities!
#jobsavailable #jobopportunites #jobs
Speedhome jobs Apply here :>>>https://form.jotform.com/211264179075052
Speedhome jobs Apply here :>>>https://form.jotform.com/211264179075052
Senior Software Engineer – RM8000 to RM13000
Requirements:
1. Masters degree in in appropriate field of study
2. 5+ years of experience as a software engineer
3. Fluent with functional, imperative and object-oriented languages; knowledge of
Java or React would be useful.
4. Either strong Object-oriented programming or Functional Programing and
modeling skills
5. 4+ years professional experience in professional web development
6. Fluent in Java and React
Responsibility:
1. Developing applications and tools by clean and efficient coding
2. Identifying, prioritising and executing tasks in the software development lifecycle
3. Developing high quality and efficient software design
4. Ensuring that software is always up to date with latest technology
5. Documenting monitor systems and development phases
6. Collaborating with external vendors and inside teams for the purpose of fixing and
improving products
7. Performing verification and validation testing
8. Reviewing and debugging of codes of various programs
9. Automating tasks through scripting and other appropriate tools
Additional Benefits:
 Annual Leave
 Training Provided
 Medical Insurance
 Medical and Hospitalisation Leave
 5 Working Days
 Flexible Working Hours
 Work from Home
---
Junior Software Engineer (Java) – Salary Range: RM3500 to RM5000
What you will be doing:
 To develop and test applications.
 Good at narrowing down problems and resolving root causes
 Volunteer to assist our seniors in troubleshooting and resolving some real-world
issues.
 If you have the appetite for more, there are opportunities to be exposed to project
management or business analysis activities under the mentorship of our project
manager and functional lead.
 An active contributor to ideas and not hesitant to #dotherightthing
Job Requirements:
 Bachelor's Degree in Computer Science/Information Technology or equivalent.
 At least 1 – 3 years of experience in software development is an added
advantage.
 Fluency in Java is a must
 Familiar with databases e.g. SQL Server, MySQL.
 Fresh graduates are welcome to apply
---
Customer Experience (Sales) – RM2500 to RM3000
Job description:
 Attend to customer's inquiries and assist in giving recommendations
 Executing marketing and sales plan to achieve sales target
 To generate sales revenue from new customers
 Develop excellent business relationship with customers
 Manage daily sales prospects
 Comply with company's guidelines and procedures
 Achieve team sales target
 Shift: Tuesday to Saturday or Sunday to Thursday
 Working hours are from 10am to 7pm
Stage 1: First 2 weeks contract (training period.)
Stage 2: 3 months contract
Stage 3: 1 year contract
Jaw-dropping bonus upon reaching sales target (besides basic salary)
Job requirements:
1. Minimum SPM qualifications (Fresh graduates are encouraged to apply)
2. Possess a service oriented mind-set with excellent telephone etiquette
3. Good verbal and written communications in Bahasa Melayu & English
4. Motivated, driven and energetic work ethic
5. Strength in communication and competence in consulting and give accurate
directions to customers.
6. Positive and serving attitude, professionalism, patience, friendliness, and
engagement towards
7. customers, continuously demonstrating confidence, reliability and integrity in
difficult situations.
8. Willing to work on shift hour
---
Video Editor
Salary Range: RM2500 to RM2700
Job Description:
 Work closely with the Marketing department to create video content for various
platforms such as Facebook, Instagram, YouTube etc.
 Brainstorm video concepts and create storyboards and/or scripts
 Work collaboratively cross departments to acquire talents and products/props needed
for the shoot
 Handle video equipment such as lighting, audio and camera during filming days
 Direct talent as needed when filming
 Pick appropriate footages and edit them to full length videos per brief requirements
 Cover company events by capturing and compiling footage to showcase in the best
light possible
 Other ad hoc tasks as seen fit
Requirements:
 Diploma/Bachelor's degree is required
 At least 2 years of working experience as a videographer or a related role is preferred
but not compulsory
 Advanced proficiency in Premiere Pro or Final Cut Pro is a MUST
 Intermediate proficiency in Photoshop, Illustrator and After Effects is a MUST
 Creative in the way you approach and conceptualize ideas to capture the attention of
audiences
---
Web Developer Internship
Job Description
• Materialize business requirements into feature or improvement
• Daily hands-on development with CSS, HTML, JavaScript, React, Redux ecosystem
• Backend integration via REST API
• Actively participates in agile meetings with product management, development & QA
team
Requirements
• Detail oriented
• Good understanding of CSS, HTML, JavaScript. Knowledge of React Redux as bonus.
• Team player
• Strong communication skills
• Strong sense of urgency and ability to meet deadlines
• Ability to demonstrate ownership and accountability
---
Crazy Benefits for jobs with Speedhome:
 UNLIMITED Leave. Yes you heard us right! No such thing as a capped Annual
Leave!
 Medical, hospitalization, and life insurance covered by Allianz
 RM50 claims for transport (office) OR RM50 claims for Wi-Fi (now that we are
WFH)
 RM50 fitness allowance
 10% Discount on Car/Motor Insurance
 RM200 MONTHLY book allowance
 FREE UDEMY Courses
 Fun company events organized by HR
 Not forgetting unlimited hot coffee/milo…
Hiring on SPEEDHOME
As an advocate for equality, SPEEDHOME believes that diversity is essential to build a world where everyone feels they belong. We trust that coexisting with differences starts from home and we're taking actions to end discrimination and build a more inclusive company. No matter your race, beliefs, gender, or sexual orientation you will be treated equally at SPEEDHOME. So, jump on board!