AutoCAD is well known Computer-Aided Design (CAD) software used to produce 2D & 3D designs and drawings. It helps you create highly accurate drawings and able to handle a vast range of scales from buildings as big as KLCC or the whole townships, to objects as small as a microchip.
The AutoCAD program is popular with professionals and students in various fields such as engineering, architecture, and design. The program is user-friendly and it can be used for drawing, editing, or modifying existing 2D & 3D drawings, as well as in creating entirely new drawings. Users can create 2D & 3D drawings and models that allow them to look at the object from many different perspectives and come up with a workable design rather quickly.
AutoCAD is flexible software and commonly used for simple projects and presentations or complicated projects such as the architectural structure of a building. It's flexibility, and user-friendliness also allows workflows to turn around much faster, and this helps users to be more productive at the workplace.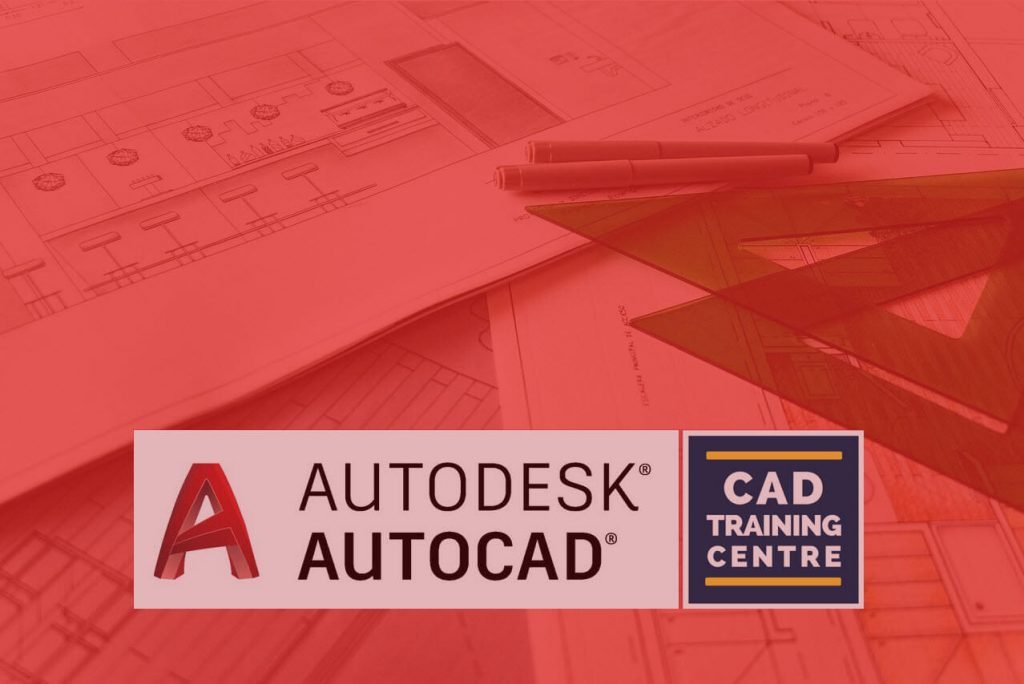 Our Courses
We offer three different training classes that you could take in progression.

AutoCAD (2D) for Beginners
In many organisations, the lack of 2D knowledge hampers the organisation. Sometimes minor changes or edits to a drawing can take days to complete, as you have to wait for the drafting department or people skilled with AutoCAD to come back with the changes. The basic knowledge of AutoCAD will enable the participant to be more productive at the workplace, and workflows can turn around much faster.
Who is it for: This course is designed for a complete beginner or someone with minimal knowledge of AutoCAD.
Duration: 2 days
Cost: Normal Price:RM 1500 – *Promotional Fee* RM 1280
Note: For this course, 20 CCD CIDB points will be awarded.
AutoCAD 2D Course for Advanced Users
In larger teams, a new challenge occurs. Different members of the group would need to reuse components or objects which have been drawn before. This course would help them to organise all the different information in a standardised way across the organisation. It will also help participants create templates, where other members of the organisation could follow and use, instead of creating a new and non-uniform drawing each time.
Who is it for:  It is for those who already have basic knowledge of AutoCAD 2D and would like to expand their understanding more. This course also serves as a prerequisite for AutoCAD 3D course.
Duration: 2 days
Cost: Normal Price: RM 1750 – *Promotional Fee* RM 1400
Note: For this course, 20 CCD CIDB points will be awarded.
AutoCAD 3D Essentials Course
This course teaches the visualisation and modelling of objects in 3 dimensions. It helps users to conceptualise and simulate their design ideas for the real world.
Who is it for: This course is for those who already know AutoCAD 2D and would like to expand and explore the world of 3D modelling.
Duration: 2 days
Cost: Normal Price: RM 1750 – *Promotional Fee* RM 1400
Note: For this course, 20 CCD CIDB points will be awarded.
Who Should Attend
The courses are geared for those who need the essential knowledge of Autocad 2D, 2D Advanced and 3D Essentials. The training programs are aimed for aimed toward:
a) Professionals in the following fields : 
Draughtsman, Assistant Engineers and Engineers in the field of Mechanical, Electrical Civil, Road, Transport, Oil and Gas, Manufacturing, Industrial, Chemical and Petroleum. 

Product Engineers. 

Architects and Interior Designers
b) School leavers, college and university students
c) Anyone interested in learning about drawing and designing with computer-aided designs.
Class Duration and Schedule
Each of the courses can be completed in 2 days each.
AutoCAD 2D Basics from Zero – 2 days
AutoCAD 2D Advanced – 2 days
AutoCAD 3D Essentials – 2 days
Short Course Syllabus
The AutoCAD training syllabus and the content we offer will be sufficient for your daily work and application in various fields.
The duration of each course is only two days, from 10 am till 5 pm with regular breaks. We believe that the breaks in between help to provide students with some time to process the information that they receive during the class. This setup helps to create a better engagement during the lecture.
Our AutoCAD Basics from Zero course allows participants to start learning and applying AutoCAD right away without any prior knowledge or experience. Subsequently, students can proceed to our more advanced AutoCAD courses – 2D Advanced and 3D Essentials – if they wish to.
We host classes twice a month. We also cater weekend courses for those who have tight working schedules or heavy work assignments.
See our full schedule here:
**Free Repeats**
To help our participants better, we offer FREE Repeat classes so that students can come back to review and refresh their knowledge for free. These FREE Repeat classes are available every month.
Classroom Training and Facilities
Our training centre is located in Bandar Puteri, Puchong and is only a 2-minute walk from the Bandar Puteri LRT station with many restaurants nearby. It is also situated near a shaded car park which is absolutely free.
Our classroom training is held in a classroom setting where the instructor teaches and shows various examples and tools you need to know and carries out numerous exercise for participants to try out and experience.

The training style consists of 70% practical and 30% theory, workshop style. We want students to learn more by doing rather than just listening.

You will receive personal guidance from our trainers during the class. 

Our trainers will have Q&A sessions to answer the various questions throughout the duration of the class.

Our typical class size is between 6-10 students, which allows our trainers to spend more time with their students, individually.
[Covid-19 Update]
At CAD Training Centre, we take social distancing and SOP regulations very seriously for the safety of our fellow participants. Our training centre is sanitised and regularly disinfected so that the participants that come in are in a safe and clean learning zone.
Upon arriving at our training centre, there are ample hand sanitisers placed around the room as we want our participants to feel safe and to keep their hands clean and sanitised.
Our classroom settings follow the standard guidelines of 1 meter between participants' seating areas and 1.5 m between table rows. A distance of one meter is observed at all times. Safety is our number one priority.
Online Training
Our online AutoCAD classes are held on various digital platforms such as Zoom and Cisco Webex. Classes are energetic and relaxed as our trainers have a more lively approach and have designed the lessons to promote ease of learning.
Our experienced trainers will teach and guide the students with practical hands-on exercises via screen sharing.
Because no physical attendance required, the participants are from all over Malaysia, especially those from outside of Kuala Lumpur and Klang Valley.
In-house and Corporate Training
We conduct in-house AutoCAD training programmes based on request.
We have conducted training for various companies such as TNB, Tesco, UTM, IGB Corporation Berhad, Boustead Naval Shipyard, Technip, FMC, MavCap, IOI Group, Talam, MKH Berhad, Omron Electronics, UCSI, Naza TTDI, Seremban Engineering Berhad, Gamuda Berhad, Yamaha, Sunway. Harbour Link Berhad, EA Holdings Berhad, LimKoKWing University, Taylors University, UPM, UTHM, Universiti Teknologi MARA, Nottingham University, Muhibbah Engineering.

Our Trainers
The AutoCAD tutors and trainers at the institute have around 7-15 years of training experience and adapt well to teaching in both Corporate or Classroom settings. They conduct the classes in an efficient and hands-on manner, so you'll never find the course boring.
In terms of online training, our trainers have a lively approach, and they approach the classes to promote ease of learning amongst students.
Why Choose Us
Happy Students
We have trained many well-known companies and individuals who completed their course highly satisfied. We feel honoured to receive their encouraging feedback and positive reviews.
Affordable Training Fee
Our prices are very affordable, and the fee structure is divided into different levels, i.e. Basics, Advanced and 3D; The individual fee allows the participants to pick and choose to learn what they require the most without having to spend a large sum.
Furthermore, the AutoCAD classes have an ongoing promotion as we want to reach out and help to enhance the skills of as many people as possible. 
Free Repeats & Tutorials
We offer free unlimited repeats, no questions asked. 
In rare instances, some students are unable to digest all the information at one go and may need a refresher.   
Also, we have our students' best interests at heart and want them to leave the class with full confidence. 
Upon completing the course, we also provide free online tutorials for your continuous learning.
Professional Certification 
Upon completing each AutoCAD course, we will issue a Certificate of Achievement.
We have professional certification issued by our partners at UTM (University Technology Malaysia) and other professional bodies.
CIDB & MOF Registered Provider
Our institute is a registered training provider for the Construction Industry Development Board (CIDB). As such, we provide CCD points under the Continuous Contractor Development program as required by the construction industry. Participants from the construction industry will receive CCD points for attending our AutoCAD training courses.
We are also a registered training provider with the Ministry of Finance, MOF.
HRDF Claimable
We are accredited by the Human Resource Development Fund, HRDF. All our courses offered by us are HRDF claimable under the 'SBL' Scheme.
Beginner Friendly
We are known for our tagline "Start from zero!" – students do not need any prior knowledge or experience to take our basic courses.
Conducive Learning Environment
Our AutoCAD classes focus on the practical aspects and less about theory to the ratio of 70/30 – we found that this approach helps with learning and remembering. 
Our class sizes are small at about 4-12 pax per session, and this gets each student more attention from the trainer.
Learning Aids
We provide laptops during the classroom sessions for your convenience.
During your training, a handbook will be given for your reference.
Meal options are also provided.
Our intention is for you to focus on the training and not worry about what to bring to class.
Frequently Asked Questions
What is the AutoCAD course all about?
AutoCAD by Autodesk (CAD which stands for computer-aided design) is a software tool used for drawing and designing 2D & 3D drawings and models. This software is heavily used by people in the construction industry, architects, graphic designers, and many more.
What are the benefits of learning AutoCad?
One of the key advantages is that it enables its users such as draughtsman, engineers, architects, product and interior designers to design, analyse and solve any design issues. The software produces accurate designs which help planning for construction, manufacturing, interior design, product design and others smooth and well thought out. 
In many organisations, a lack of 2D & 3D CAD skills hampers the organisation workflow. Sometimes minor changes or edits to a drawing can take days to complete, as you have to wait for the drafting department or people skilled with AutoCAD to come back with the changes. The AutoCAD knowledge will help the participant be more productive at the workplace, and workflows can turn around much faster.
Another main benefit of learning AutoCAD is a tremendous help it provides in making drawings of plans, blueprints and layouts much more straightforward. Drawing on paper is very time consuming and cumbersome, especially when you need to make the necessary corrections in case of mistakes. With the AutoCAD software, you can make the revisions quickly and easily, making your workflow smooth. 
Besides, if there are standard components or parts companies require to design, it will be easier to do it on software rather than drawing it and redrawing it multiple times. By using AutoCAD, you can draft it once and reuse it whenever you need to make significant and changes.
Learning AutoCAD is also a great stepping stone and can be very beneficial for a future career path. Many companies across different industries use it to create drawings and designs. It is also commonly used as a part of the educational syllabus in many universities and colleges.
Is it difficult to learn AutoCAD?
No, it's not. Learning with us will make your way of learning AutoCAD much more relaxed, more fun and easier to understand. 
Can I teach myself, AutoCAD?
Yes, you can, but learning with a skilled and knowledgeable trainer with years of experience will help you understand better. Having to learn by yourself is possible, but if you are stuck and do not follow a particular topic, it may cause frustration and a decline of interest. It is always better for a trainer to be present to clarify your doubts instantly and to guide your learning process.
How do I choose the right AutoCAD course for me?
Before joining any of our programmes, please refer to the breakdown of the courses above. You can also find further details on the individual courses' page. If you are still unsure about the best route for you is, then feel free to contact us, and we will assist you further with the selection. 
Do I need the AutoCAD software or license to enrol?
No, you don't need one. We will provide you with a laptop installed with fully licensed AutoCAD software for use during the classes.
What are the prerequisites?
There aren't any prerequisites for the basic or beginner course. All we need are your enthusiasm and your eagerness to be an AutoCAD expert. We will do the rest and ensure your learning objectives are fulfilled.
How Long Does it take to learn AutoCad?
Our courses are divided into three levels – from Basics to Advanced and 3D; each level takes two days each. In total, it takes approximately six days. Participants can choose which course(s) will be most suitable for their needs.
What is the difference between classroom learning and online courses? 
Classroom Learning:
Physical attendance at our training centre in Bandar Puteri, Puchong, Selangor.

Face-to-Face interaction with the trainers and other students in a classroom setting.

Immediate guidance & attention from the trainer

Much more focused

Co-learning and discussion opportunity with other participants
Online Course:
Attendance via online platforms such as Zoom and Cisco Webex

Savings on travel and food expenses

Learn from the comfort of your own home/office

More flexibility in terms of time and place
What Our Students Say
We have trained many well-known companies and individuals who completed their course highly satisfied. We feel honoured to receive their encouraging feedback and positive reviews. Read our full AutoCAD training testimonials here.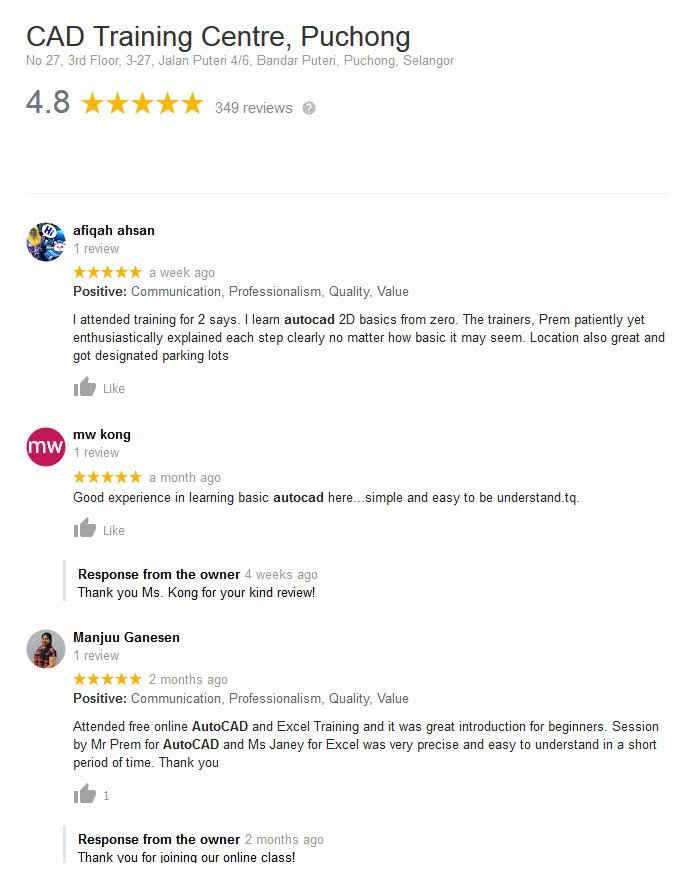 Enrol Today
Begin your journey in mastering AutoCAD today. Getting started is easy; just click an option below: