Microsoft Excel is the most recognised spreadsheet program with many functions and diverse applications. But to maximise its use, skills and experience are required. For example, if you want to turn raw data into insights, present your data in compelling ways or create trend predicting forecasts, then you need to master Microsoft Excel.
The mastery of Microsoft Excel will also help you cut down on workload and be efficient in the workplace. The majority of employers expect you to be proficient in Excel before they hire you.
At the CAD Training Centre, our number one goal is to enable our students to implement the skills immediately at the workplace or business.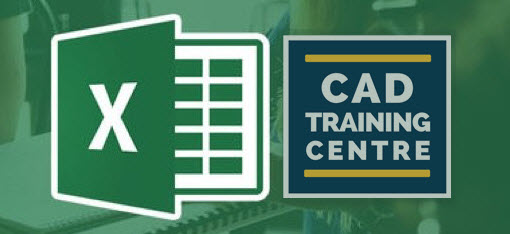 Choose Your Course
We offer three levels of Excel training course which you can take individually or consecutively. 
Microsoft Excel Basic
This training programme teaches you how to get started with Ms Excel. We will cover essential functions and uses such as data entry, simple formula/functions, working with basic charts etc. 
Who is it for: The course is for a complete beginner and has little or no working knowledge of Ms Excel.
Duration: 1 Day
Cost: Normal price RM750 – *Promo* RM410 
Note: This course awards 10 CIDB CCD points.
Microsoft Excel Intermediate
In this course, we will explore functions and uses, such as working with multiple worksheets, personalisation, data control, complex functions, automation and more.
Who is it for: This programme is suitable for someone who has a basic knowledge of Microsoft Excel and would like to delve deeper. 
Duration: 1 Day
Cost: Normal price RM 850 –*Promo* RM510
Note: This course awards 10 CIDB CCD points.
Microsoft Excel Advanced
Our focus for this course is the mastery of Microsoft Excel with advanced functions, macros and integrated office applications.
Who is it for: This Excel training programme is suitable for someone who would like to take his or her skills to the next level and be a power user or expert in Microsoft Excel.
Duration: 1 Day
Cost: Normal price Rm 950 – *Promo* RM 610
Note: This course awards 10 CIDB CCD points.
Other Excel Training Classes

Your journey in mastering Excel does not need to stop here. The following courses will be the perfect next step to expand your knowledge:

Excel Dashboard & Data Analysis
Excel VBA & Macro
Who Should Attend
Those who are interested and want to learn more about Excel to enhance their knowledge and skills
Those who need to use Excel to upgrade their working capabilities and to have accuracy in their data
Those who are in-between jobs, on the look-out for new posts or those who wish to strengthen their resume
Small Business owners who want to manage their finances, accounts, sales data and various information
People from marketing, finance, science, sales, accounting, purchasing and manufacturing
Individuals who work with huge volumes of data which requires quick sift through and get turned into professional-looking charts
Individuals who create reports and require regular updates on a daily/weekly or even monthly basis
Secondary school leavers, university students and fresh graduates who want to equip themselves for their future assignments or career
Class Duration and Schedule
We offer short courses that cover everything to know about Excel and provide practical skills for staying competitive at the workplace or business.
Basic Microsoft Excel Training – 1 day
Microsoft Excel Intermediate – 1 day
Microsoft Excel Advanced – 1 day
Excel Dashboard & Data Analysis – 2 days
Excel VBA & Macro – 2 days
Our classes start at 10:00 am to 5:00 pm with regular breaks. These breaks give the participants time to rest and to process the information that they receive during the course.
Typically, Excel courses available out there are much longer and could even sometimes take weeks to complete. We designed our Excel programme in such a way that students can achieve full competency within the one to three days period.
We usually conduct the courses on weekdays. However, we also offer weekend classes for part-timers with office-hour jobs and those unable to attend the weekday sessions.
See our training schedule :
**Free Repeats**
To help our participants better, we offer free repeat classes. Students can revisit the institute and refresh their skills if needed. These free repeat classes are available every month. 
Classroom Training and Facilities
Our training centre is located in Bandar Puteri, Puchong and is only a 2-minute walk from the Bandar Puteri LRT station with many restaurants nearby. For those who drive, nearby there is a shaded car park which is free. Due to its proximity, our centre gets many students from Kuala Lumpur and Klang Valley.
Our training sessions are held in a classroom setting. The instructor teaches the theory and shows various practical examples. 

Participants also get to try out numerous exercises and experience the learning-by-applying concept.

The training style consists of 70% practical and 30% theory, workshop style. We intend that students learn more by doing rather than just listening.

You will receive personal guidance from our trainers during the class. 

Our trainers will have Q&A sessions to answer the various questions throughout the class.

Our typical class size is between 6-10 students. This setup allows our trainers to spend more time with each of their students.
[Covid-19 Update]
At CAD Training Centre, we take social distancing and SOP regulations very seriously in the interest of the safety of our fellow participants.
Our training centre is sanitized and disinfected regularly. There are ample hand sanitizers placed around the room.
Our classroom settings follow the standard guidelines of 1-meter space between participants' seating areas and 1.5 meters space between the table rows. Safety and wellbeing of our students is our number one priority.
Online Training
Our online classes are conducted via digital platforms such as Zoom and Cisco Webex. Classes are both exciting and relaxed as our trainers have a lively approach that works well for online training. We also designed the lessons to promote ease of learning. 
Our experienced trainers will teach and guide the students with practical hands-on exercises that are done via screen sharing.
Because there are no geographic limitations, our students are from all over Malaysia.
In-house and Corporate Training
We also conduct in-house training programmes based on request. 
We have conducted training for various companies such as TNB, Tesco, UTM, IGB Corporation Berhad, Boustead Naval Shipyard, Technip, FMC, MavCap, IOI Group, Talam, MKH Berhad, Omron Electronics, UCSI, Naza TTDI, Seremban Engineering Berhad, Gamuda Berhad, Yamaha, Sunway. Harbour Link Berhad, EA Holdings Berhad, LimKoKWing University, Taylors University, UPM, UTHM, Universiti Teknologi MARA, Nottingham University, Muhibbah Engineering.
The Trainers
Our trainers have around 7-15 years of coaching experience, and they are very versatile in teaching in the classroom, online or corporate environment. Our trainers conduct classes in an efficient and hands-on manner, so you'll never find the course boring.
Why Choose Us
Free Repeats & Tutorials
We offer free unlimited repeats, no questions asked. 
In rare instances, some students are unable to digest all the information at one go and may need a refresher.   
Also, we have our students' best interests at heart and want them to leave the class with full confidence. 
Upon completing the course, we also provide free online tutorials for your continuous learning.
Professional Certification 
Upon completing each Excel course, a Certification of Achievement will be issued.
We have professional certification issued by our partners at UTM (University Technology Malaysia) and other professional bodies.
CIDB & MOF Registered Provider
Our institute is a registered training provider for the Construction Industry Development Board (CIDB). As such, we provide CCD points under the Continuous Contractor Development program as required by the construction industry. Participants from the construction industry will receive CCD points for attending our training courses. 
We are also a registered training provider with the Ministry of Finance, MOF.
HRDF Claimable
We are accredited by the Human Resource Development Fund, HRDF. All our courses offered by us are HRDF claimable under the 'SBL' Scheme.
Beginner Friendly
We are known for our tagline "Start from zero!" – students do not need any prior knowledge or experience to take our basic courses.
Conducive Learning Experience 
Our classes focus on the practical aspects and less about theory to the ratio of 70:30 – we found that this approach helps with learning and remembering. 
Our class sizes are small at about 4-12 pax per session, and this gets each student more attention from the trainer.
Learning Aids
We provide laptops during the classroom sessions for your convenience.
During your training, a handbook will be given for your reference.
Meal options are also provided.
Our intention is for you to focus on the training and not worry about what to bring to class.
Frequently Asked Questions
What are the benefits of learning Excel?
The main benefit of learning excel is that it will enhance your employability status and credibility because most companies require you to work well verse in this software. These are some of the primary advantages of learning excel:
Productivity: Saves a lot of time and boosts productivity


Spreadsheet: Helps with handling large data sets that require manipulation

Data Viz: Become proficient in creating tables, graphs and charts that impress the audience and provide insight

Data Analysis: Uncover information, insight and ideas from raw data
Is Excel easy to learn? 
Absolutely. Furthermore, we design the courses for attendees who come with absolutely no prior knowledge or experience in Microsoft Excel or other spreadsheet programs. 
Can I just learn Excel with free information online?
Before joining our course, our students usually spend hours searching online on Youtube, Google or ask their colleagues for help whenever they face problems with Microsoft Excel. Although they sometimes get the answer that they are looking for, the process is laborious.
We understand this struggle, and that is why we designed our training to equip you with everything you need to know about Ms Excel in just three days (from a beginner to an advanced user).
How long does it take to learn Excel?
We have three primary levels of Excel courses, and each takes up a day. The three levels are Basics, Intermediate and Advanced. 
For students who wish to explore further, they can also choose the more advanced courses like Excel Data Analysis and Excel VBA & Macro which generally take two days each.
Can I learn Excel in a day? 
Yes, you can. Our Microsoft Excel Basics program only takes one day. 
However, if the participants wish to master excel, it will take approximately 2-3 days to become an advanced user of Microsoft Excel.
What is the difference between classroom learning and online courses? 
Classroom Learning:
Physical attendance at our training centre in Bandar Puteri, Puchong, Selangor

Face-to-Face interaction with the trainers and other students in a classroom setting

Immediate guidance & attention from the trainer

Much more focused

Co-learning and discussion opportunity with other participants
Online Course:
Attendance via online platforms such as Zoom and Cisco Webex

Savings on travel and food expenses

Learn from the comfort of your own home/office

More flexibility in terms of time and place
What Participants Say
We have trained many well-known companies and individuals who completed their course highly satisfied. We feel honoured to receive their encouraging feedback and positive reviews. Read our full excel training testimonials here.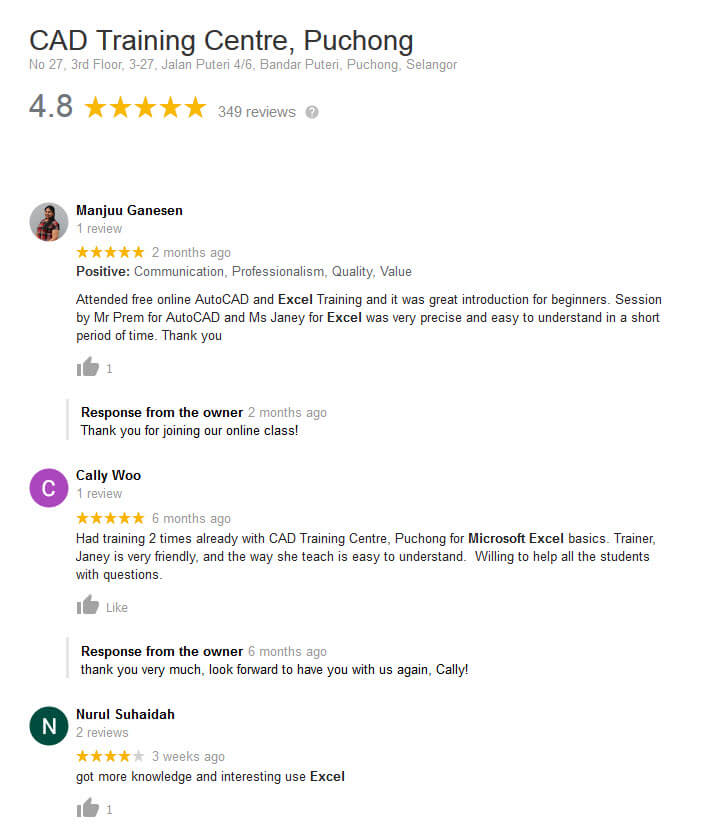 Enrol Today
Begin your journey in mastering Microsoft Excel today. Getting started is easy; just click an option below: