Microsoft Project is a management software that can help you create schedules for your projects, explain and delegate each task to your team members, manage team schedules, and track the status of your project.
Proper use of the software will keep your work and projects well organised, within the scope and meets stakeholder expectation.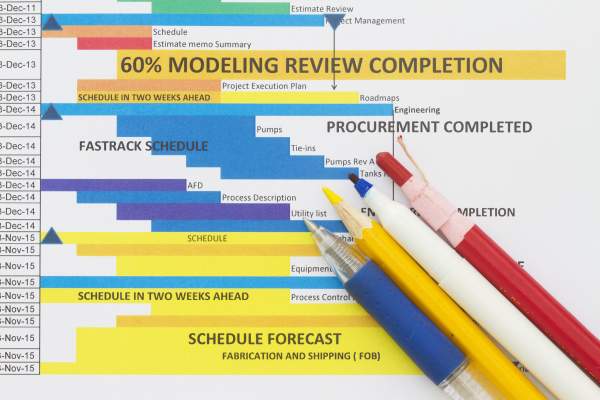 Choose Your Course
We offer three levels of Ms Project training course which you can take individually or consecutively. 
Microsoft Project Basics
This class provides an overview of how to use the software. We will teach students how to use the key features of this software in planning project, creating plans and schedule, assigning roles and resources, and also controlling the project. 
Who is it for: This course is designed for people who have basic knowledge of project management concepts and for people who are responsible for creating alterations and tools that can help manage your project plans. You should also have some experience in using Windows.
Duration: 2 Days
Cost: Normal price RM1500 – *Promotional Price* RM1280 
Note: This course awards 20 CIDB CCD points.
Microsoft Project Advanced
This course provides participants with the understanding of more advanced functions of Microsoft Project – Reporting, Creating S Curves and combining with Excel data.
Who is it for: This course is for participants who have attended our basics level Microsoft Project training course or for those who have a good understanding of Microsoft Project and wants to learn the advanced functionality of Ms Project.
Duration: 2 Days
Cost: Normal price RM2450 – *Promotional Price* RM1890

Note: This course awards 20 CIDB CCD points.
Who Should Attend
Our Ms Project courses are designed for people who understand the concept of project management and responsible for creating and monitoring project schedules. They usually require various tools to manage project plans. Participants enrolling in this training should have basic knowledge of the Windows operating system.
Class Duration and Schedule
We conduct short courses that cover all the essentials and advanced knowledge of Ms Project.
Basics Microsoft Project Training – 2 days
Advanced Microsoft Project Training – 2 days
Our classes start at 9:00 am to 5:00 pm with regular breaks. These breaks give the participants time to rest and to process the information that they receive during the course.
**Free Repeats**
To help our participants better, we offer free repeat classes. Students can revisit the institute and refresh their skills if needed. These free repeat classes are available every month. 
Classroom Training and Facilities
Our training centre is located in Bandar Puteri, Puchong and is only a 2-minute walk from the Bandar Puteri LRT station with many restaurants nearby. For those who drive, nearby there is a shaded car park which is free. Due to its proximity, our centre gets many students from Kuala Lumpur and Klang Valley.
Our training sessions are held in a classroom setting. The instructor teaches the theory and shows various practical examples. 

Participants also get to try out numerous exercises and experience the learning-by-applying concept.

The training style consists of 70% practical and 30% theory, workshop style. We intend that students learn more by doing rather than just listening.

You will receive personal guidance from our trainers during the class. 

Our trainers will have Q&A sessions to answer the various questions throughout the class.

Our typical class size is between 6-10 students. This setup allows our trainers to spend more time with each of their students.
[Covid-19 Update]
At CAD Training Centre, we take social distancing and SOP regulations very seriously in the interest of the safety of our fellow participants.
Our training centre is sanitized and disinfected regularly. There are ample hand sanitizers placed around the room.
Our classroom settings follow the standard guidelines of 1-meter space between participants' seating areas and 1.5 meters space between the table rows. Safety and wellbeing of our students is our number one priority.
Online Training
Our online classes are conducted via digital platforms such as Zoom and Cisco Webex. Classes are both exciting and relaxed as our trainers have a lively approach that works well for online training. We also designed the lessons to promote ease of learning. 
Our experienced trainers will teach and guide the students with practical hands-on exercises that are done via screen sharing.
Because there are no geographic limitations, our students are from all over Malaysia.
In-house and Corporate Training
We also conduct in-house training programmes based on request. 

Why Choose Us
Free Repeats & Tutorials
We offer free unlimited repeats, no questions asked. 
In rare instances, some students are unable to digest all the information at one go and may need a refresher.   
Also, we have our students' best interests at heart and want them to leave the class with full confidence. 
Upon completing the course, we also provide free online tutorials for your continuous learning.
Professional Certification 
Upon completing each Excel course, a Certification of Achievement will be issued.
We have professional certification issued by our partners at UTM (University Technology Malaysia) and other professional bodies.
CIDB & MOF Registered Provider
Our institute is a registered training provider for the Construction Industry Development Board (CIDB). As such, we provide CCD points under the Continuous Contractor Development program as required by the construction industry. Participants from the construction industry will receive CCD points for attending our training courses. 
We are also a registered training provider with the Ministry of Finance, MOF.
HRDF Claimable
We are accredited by the Human Resource Development Fund, HRDF. All our courses offered by us are HRDF claimable under the 'SBL' Scheme.
Beginner Friendly
We are known for our tagline "Start from zero!" – students do not need any prior knowledge or experience to take our basic courses.
Conducive Learning Experience 
Our classes focus on the practical aspects and less about theory to the ratio of 70:30 – we found that this approach helps with learning and remembering. 
Our class sizes are small at about 4-12 pax per session, and this gets each student more attention from the trainer.
Learning Aids
We provide laptops during the classroom sessions for your convenience.
During your training, a handbook will be given for your reference.
Meal options are also provided.
Our intention is for you to focus on the training and not worry about what to bring to class.
Frequently Asked Questions
What is Microsoft Project course all about?
Microsoft Project is a software that helps create and manage your projects. It helps every business with their project and is a great software that helps plan your ventures and track the various statues of your project among many other functions that the software can do.
What are the benefits of learning Microsoft Project
One of the main benefits of learning Microsoft Project is that it is a good planning and scheduling software. It helps prioritise your task you've set out to do and helps you tackle the most critical task at hand that you have created.
Besides that, this software can be used for financial management. It is one of the best tools when you are trying to get the right estimate for your projects so that you can avoid the pitfalls of over expenditure. 
Microsoft Project is also a good software for team collaborations. When you have various amounts of tasks at hand, you can use this software to delegate the task to teammates and follow up with on the days you plan to accomplish the task.
The key benefit of Effective Project Management is being able to successfully plan and organise resources that allow effective execution whilst managing the expectations of customers and stakeholders. Careful resource management is critical to ensure there is no wastage of time or money.
What are the prerequisites?
This course is designed for people who have a basic knowledge of the concepts of project management, people who are responsible for creating alterations and tools that can help manage your project plans. You also should have basic knowledge of Windows.
How long does it take to learn Microsoft Project?
Learning the basics takes approximately two days. However, if you would like to venture further into Project Management, you can also take our MS Project Advanced course as well as the Effective Project Management Skills With Project Risk Management course. This will give you a complete picture and enable you to manage projects very effectively. 
What is the difference between classroom learning vs online courses? 
Classroom Learning
Participants will attend the course at the training centre in Bandar Puteri, Puchong.

Face to Face Interaction with the trainer in a classroom setting.

Immediate guidance & attention from the trainer

More focused

Learning among other participants during exercises
Online Course
Participants will attend the course using online platforms such as Zoom and Cisco Webex

Can save on travel and food expenses

Learn from the comfort of your own home/office

More flexibility

Able to discuss with people from different companies.
What Participants Say
We have trained many well-known companies and individuals who completed their course highly satisfied. We feel honoured to receive their encouraging feedback and positive reviews.
Enrol Today
Begin your journey in mastering Microsoft Project today. Getting started is easy; just click an option below: