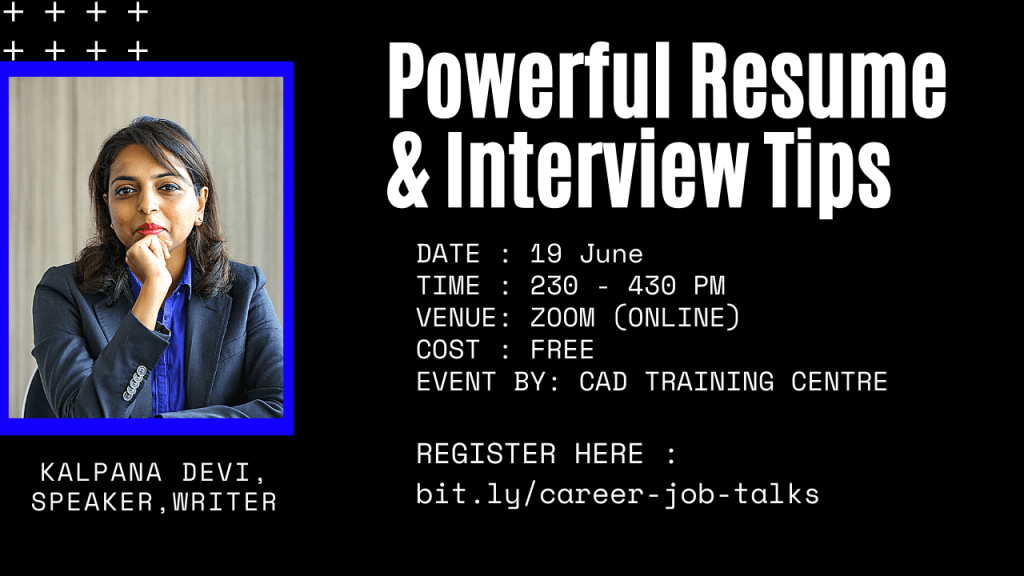 Powerful Resume & Interview tips.  
This week we are doing one more event (FREE for unemployed), with Kalpana Devi – Powerful Resume & Interview tips.
We have heard from employers we know that there are jobs available, many applications, but they could not find matching candidates.
What we found behind the scenes is, very often there are good candidates but sometimes they don't get noticed because of their resume or cover letter is not outstanding, or does not highlight their strenghths.
Good candidates and missed opportunities.
Don't let that happen, join us again, with Kalpana Devi,
---
This is part of Cad Training Centre's project for the unemployed. The more Malaysians get back to work, the better it is for everybody.
This is part of a series of Free Talks we are doing, to help you get prepared for the job market.
Previously we hosted sessions with  Ishak Karim, on the topic Job Hunting Strategies, which was overbooked. Many benefitted and gave very good reviews.
Do share with your friends who might benefit from this!
#careertalk #openforopportunities #jobopportunities
---
About the Speaker for this event
Ms. Kalpana Devi Subramaniam is a Business Analyst, Lean Six Sigma Black Belt, Certified Quality Engineer, Alumna of University of Malaya and a writer with over 20 years of industrial experience in varied industries.
She has judged international competitions in the USA, has trained thousands and consulted numerous businesses to improve business performance over a span of 16 years.
Recently she has been actively coaching Job Hunters, to get better Job Opportunities.
Info : 
Free Zoom Session : Powerful Resumes and Interview Skills
Language : English +  Bahasa Melayu
Date : 2.45pm – 4.30pm -Fri 19 June 2021
Speaker: Ms Kalpana Devi
Spots available: Limited
Please share with your Unemployed friends, this link.
---
| Zoom Program Title | Date | Time | Booking Slot |
| --- | --- | --- | --- |
| Powerful Resume and Cover Notes | 7 May 2021 | 2.40 p.m - 5.00 p.m | BOOK HERE |
After Registering, you'll receive and email, kindly check your spam folder too
---
---
---
If you are jobless or  retrenched (di berhentikan kerja)
Please fill up form here, to find out job postings, tips and benefits : https://www.jotform.com/cadtraining/linkedin-retrenched-incentive