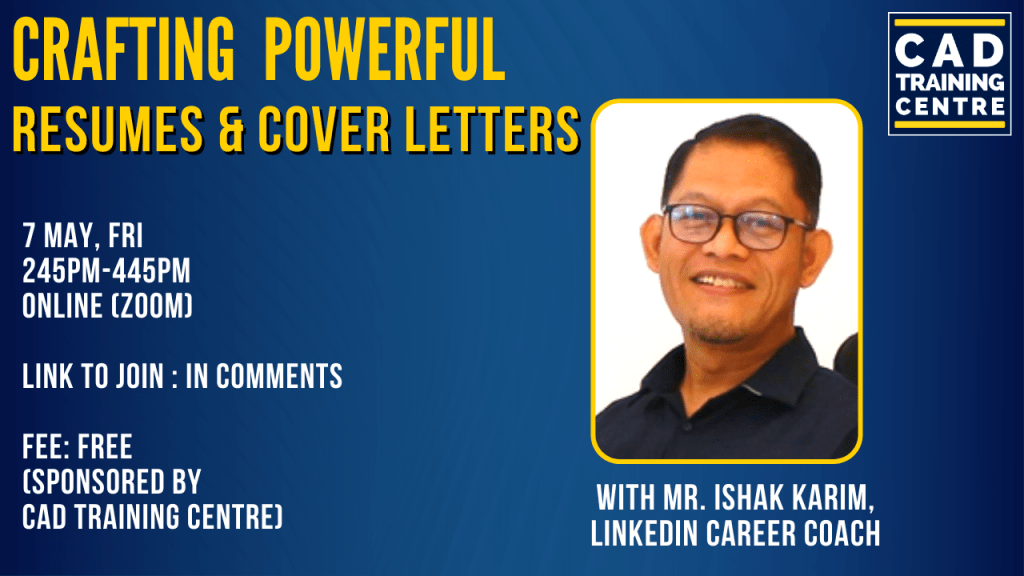 We hosted an event recently with Ishak Karim, with the topic Job Hunting Strategies.
Many benefitted, and gave very good reviews.
This week we are doing one more event (FREE for unemployed), with Ishak Karim – How to Craft Powerful Resumes and Cover Letters
We have heard from employers we know that there are jobs available, many applications, but they could not find matching candidates.
What we found behind the scenes is, very often there are good candidates but sometimes they don't get noticed because of their resume or cover letter is not outstanding, or does not highlight their strenghths.
Good candidates and missed opportunities.
Don't let that happen, join us again, with Ishak Karim
It is part of Cad Training Centre's project for the unemployed. The more Malaysians get back to work, the better it is for everybody.
This is part of a series of Free Talks we are doing, to help you get prepared for the job market.
Do share with your friends who might benefit from this!
#careertalk #openforopportunities #jobopportunities
Info : 
Sesi Zoom Percuma : Crafting Powerful Resumes and Cover Letters
Bahasa : English +  Bahasa Melayu
Tarikh : 2.45pm – 4.30pm -Jumaat 7 May 2021
Speaker: Encik Ishak Karim – helped hundreds of Jobseekers in Malaysia, Linkedin profile more that 25,000 followers.
Tolong Share dengan kawan kawan yang memerlukan.
---
| Zoom Program Title | Date | Time | Booking Slot |
| --- | --- | --- | --- |
| Powerful Resume and Cover Notes | 7 May 2021 | 2.40 p.m - 5.00 p.m | BOOK HERE |
After Registering, you'll receive and email, kindly check your spam folder too
---
---
---
If you are jobless or  retrenched (di berhentikan kerja)
Please fill up form here, to find out job postings, tips and benefits : https://www.jotform.com/cadtraining/linkedin-retrenched-incentive